CSLI
Helping Clients address data governance, data quality, compliance and risk

Data Guardian by CSLI is a monthly subscription technology service which automatically monitors and provides insight into your data to ensure conformance with Corporate Governance, Compliance and Risk based requirements.
The service provides a central, easy to use and responsive web based application where business exceptions, metrics and thresholds can be managed, deployed, tracked and reported on. This minimises the burden of manual exception reporting, enforces data quality ownership and promotes self-service resolution and reporting.

Issue Detection and Management
Improve confidence through continuous monitoring and back testing. Detect, assign and track data quality issues, governance, compliance issues and risks.

Real-Time Data Notification & Alerting
Trigger system and email notifications to keep users informed of important data events as they occur in your application systems.

Business Metric Capture
Benefit from systematic business metric capture and self-service reporting, leading to actionable decision making.
Data Guardian connects to any structured data and allows you to build and run rules that check for specific conditions. These rules will then generate a set of results which will trigger an action for the appropriate data owner or team.
Once you connect Data Guardian to your data and define the rules, Data Guardian takes care of the rest. A data governance solution that combines people, process and technology.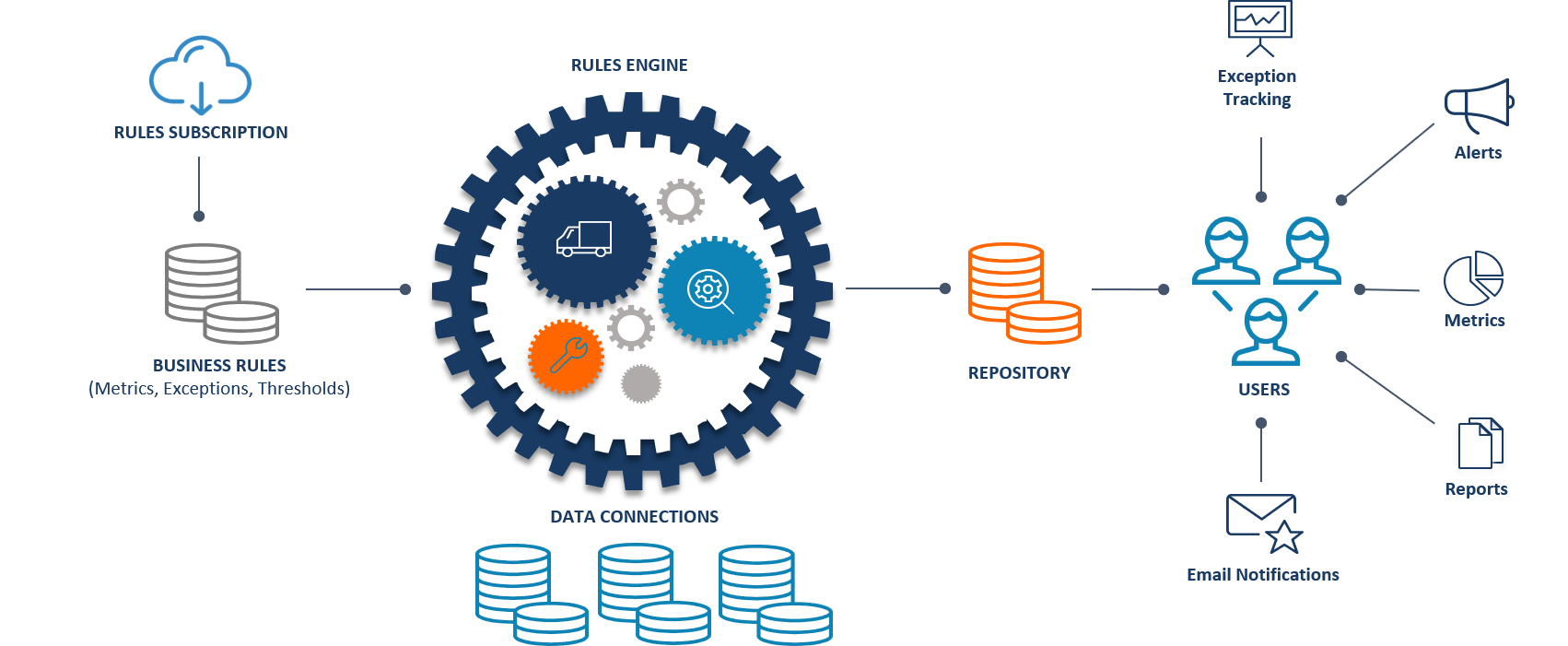 The implementation of Data Guardian follows 6 easy steps that help you achieve rapid results without significant overhead to your management and workforce. Our years of experience have taught us that the key to a successful implementation is to start with a small footprint and set out a sustainable workload so as to minimise impact to management and the users.
After your first rule is created, you can rest at ease knowing that Data Guardian will continue to watch over your data so long as it is in place. Once familiar with the system and interface, you can start to expand the rule base and complexity at your own pace. Data Guardian will continue to action and assign issues back to the data stewards you have identified as being responsible for the data.
Bottom line, you get results immediately with little effort, and once the system is up and running, it does the hard work for you.
Deploy
Installation and configuration of the system. Obtain input on data and rules to be monitored
Assess
Create and run rules to understand results obtained. Obtain guidance to decide what data needs to be remediated in advance and what data issues to leave for users to fix.
Remediate
Remediate any data in advance.
Publish
Deploy Data Guardian to users to begin running agreed rules.
Control
Control the management of exceptions, notifications and metrics through the dashboard while Data Guardian works on your behalf.
Learn and Adapt
Refine the rules, add new rules and continue to improve the overall the process.

NON STOP MONITORING


Always watching your data to detect and take action on exceptions, compliance and risk.

IMPROVED GOVERNANCE


Business-wide measurement of data quality, compliance and risk across your data systems.

IMPROVED COMPLIANCE


Monitors and guards data to ensure compliance with operational, statutory and regulatory requirements.

REDUCED RISK


Continuously assesses risk, based on a known set of data elements.

INCREASED EFFICIENCY


Make actionable decisions based on accurate data, rather than collating, processing and exception checking data beforehand.

REDUCE COST


Make better, faster decisions with more certainty & reducing costly errors.
USABILITY


Simple to use and  is built with business and technical users in mind.

COLLABORATIVE


Supports collaboration between multiple levels of users backed with the appropriate security permissions.

AUTOMATED


Build the rules and it monitors and reports on your data automatically with dashboards, notifications and alerts.

ISSUE RESOLUTION


Auto-detection, allocation, resolution, and alert management for data owners to allow easy management of data governance KPIs.

SCALABLE


Solution deployment and training can be done in days unlike other products which can take weeks or months. 

CONNECTIVITY


Can easily connect up to a wide range of structured data and databases.
CSLI is a Partner orientated organization, we work with approved Partners to help Clients deploy and support our technologies. 
Work with one of our Partners to help you take advantage of one of your most important business assets. Our Partners can help you design and deploy Data Guardian and help you get results fast. 
Interested in becoming a Reseller Partner? Join the growing team of CSLI Partners and help your Clients leverage the power of their data. All while growing a profitable recurring revenue stream.